Please click here for a printable version of the lecture schedule. All lectures are given by attorney Tim Hannan and invited subject matter experts. They are held on Monday nights from 7:30pm to 9:00pm in our office at:
576 B Street, Second Floor, Santa Rosa, CA 95401
Average class size is 10-15 students per lecture.
January 8, 2018 through December 17, 2018 7:30 p.m. to 9:00 p.m.
Lecture topics are Contractors License Law, Mechanics Lien Law, Labor Code and Business Management. They repeat each month. If you enrolled in our Classroom Course, you can attend as many lectures as you like until you are comfortable with your understanding of the subjects. We recommend attending two sets of lectures (totaling 8 lectures) to hear each topic twice, to best retain the information.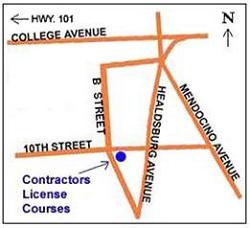 Lectures are held at
576 B Street on the 2nd floor,
(corner of 10th and B streets, across from St. Rose Church downtown).
Our address and phone number are:
576 B Street, Suite 2-B
Santa Rosa, CA 95401
(707) 578-8877